COMPANY
More safety under the sun-umbrella
Security Beach was founded in 2010 by the development of an innovative idea: create a sun-umbrella safety box, to ensure more safety in the seaside clubs. An idea for visionaries for that time but today very actual, successful and perfectly aligned with the demands of the today market.
The passion that has tied us to the project has brought a constant improvement in refining the product following the indications of our colleagues at the beach: every dialogue, every meeting has brought constructive information to get today a series of solutions suitable for every need. We worked on the design and the material to be suitable for the summer and several beach conditions. We then worked on the features to create a product that must be "user friendly" and comfortable. The circular safety box indeed integrates itself perfectly with the sun-umbrellas and moreover can be used as a practical table; the latest version allows also to recharge mobile phones and mobile devices in general, thanks to the use of an inner integrated solar energy battery.
Growing every year, we have moved from the starting product to the current 9th version and multi models offer. Security Beach is MADE IN ITALY and this has allowed us to be always a side in supporting the clients that have chosen our service to grow with either. The desire to create and constantly improve ourselves make us a dynamic, innovative company always ready to satisfy the ever changing market.

Even you that are now reading can be part of our group
WE DREAM SAFETY BEACHES AND RELAXED PEOPLE!
They say about us...
Discover the good reasons why to place security beach in your structure!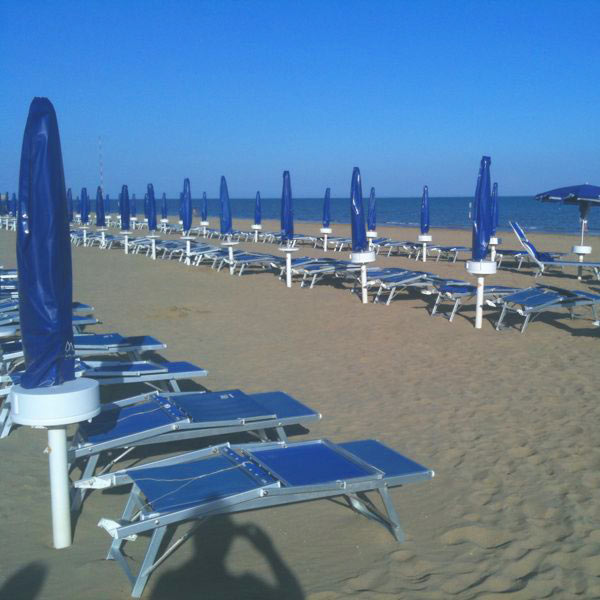 " The product is really effective and much appreciated by our customers. Security Beach company is a serious firm , made by professionals and available to provide assistance. "
Bibione Mare
" Security Beach gave an extra boost to my sun-umbrellas: customers appreciate being able to leave their phone and wallet without concerns and going for a walk or a swim. They are always functional and simple to manage. "
Babyla Beach & Bar